Lake Lanier Olympic Rowing Venue, Gainesville, GA – Maddie Mullins and Junior Ognovich teamed up in the women's pair event to win an historic first USRowing Southeast Regional Championship for High Point Rowing Club on Sunday.
Just hours later Ainsley Fox, Lindsay York, Molly HIlemn and Charlotte Curri combined to win bronze in the women's U17 quadscull event in Georgia.
The USRowing Southeast Championships comprises the fastest youth crews from the Carolinas, Tennessee, Georgia, Alabama, Mississippi, and Florida. The win for Mullins and Ognovich earned the rowing pair an automatic qualifying spot at USRowing's Youth National Championships in Sarasota next month.
The High Point crew qualified for Sunday's regional final by posting the fastest time in Saturday's time trials, which narrowed the field from across the region down to just the top 7 crews. Mullins and Ognovich were 15 seconds faster than their nearest competition posting a time of 7 minutes 45 seconds.
In the final, the duo advanced to an early lead in the near perfect conditions on the Lake Lanier rowing course, site of the 1996 Olympic Games. "It was tempting to just to start our sprint early but we remained focused on maintaining composure throughout the race," said Ognovich. after the victory. "We have a lot more speed to show at nationals."
In the U17 quad scull final, Ainsley Fox knew she would need to help her crew find some more speed to make it to the medal podium. The crew qualified Saturday with the fourth fastest time overall and 5 seconds to make up on Sarasota Crew. The crew responded by blasting off the starting pontoons to jump ahead of Sarasota for the bronze medal position. Sarasota made a move on High Point two thirds of the way through the race but Curri successfully called her crew to respond from the bow seat.
"We finished the race and didn't know the result it was so close," said Curri. "We had to wait until we returned to the docks to know we had won a bronze medal."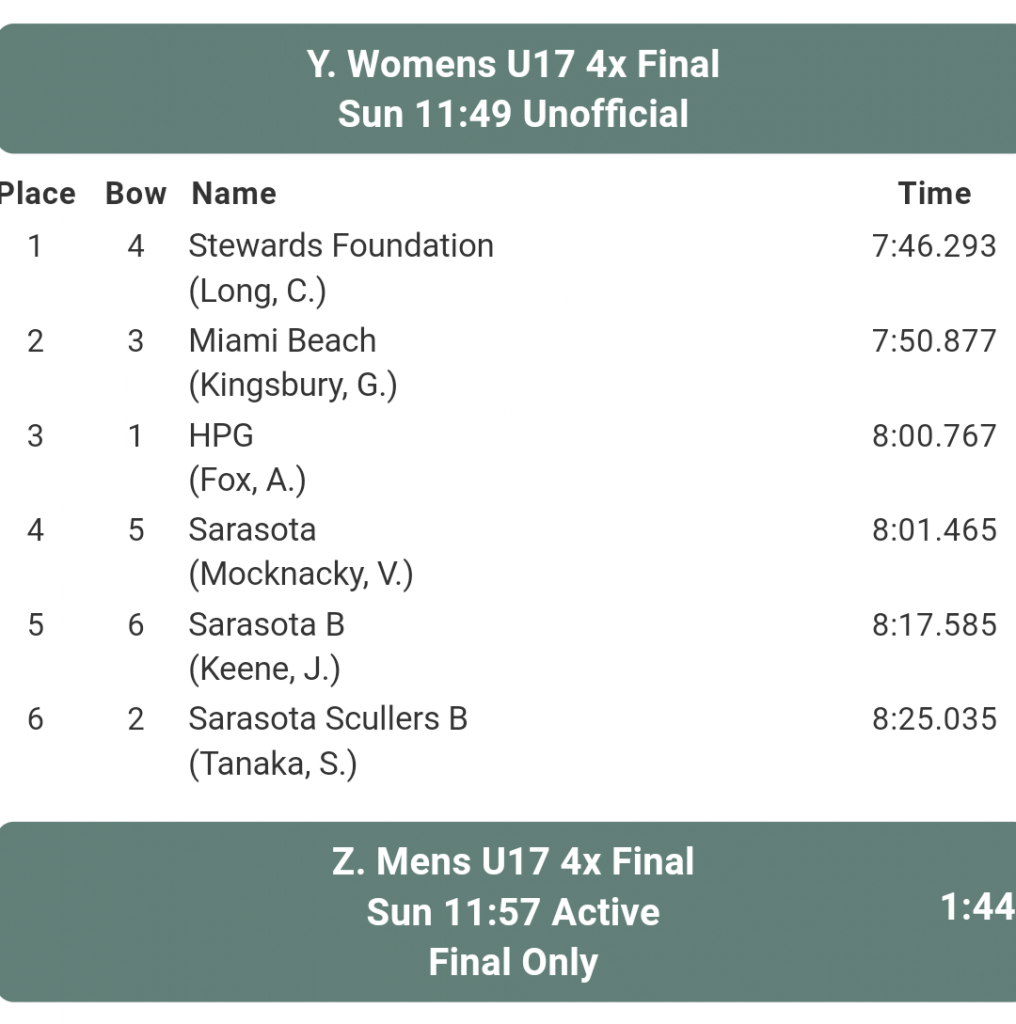 Also racing for High Point in Georgia were Govind Harish and Charles York in the double sculls event and Kiki Davis, who led her crew of William Hundley, Jake Bryant, Matthew Hronich, and Jacob Messick in the lightweight fours events. Both crews produced outstanding performances in Saturday's time trials and semi final rounds but were nudged out of Sunday's finals in competitive fields.