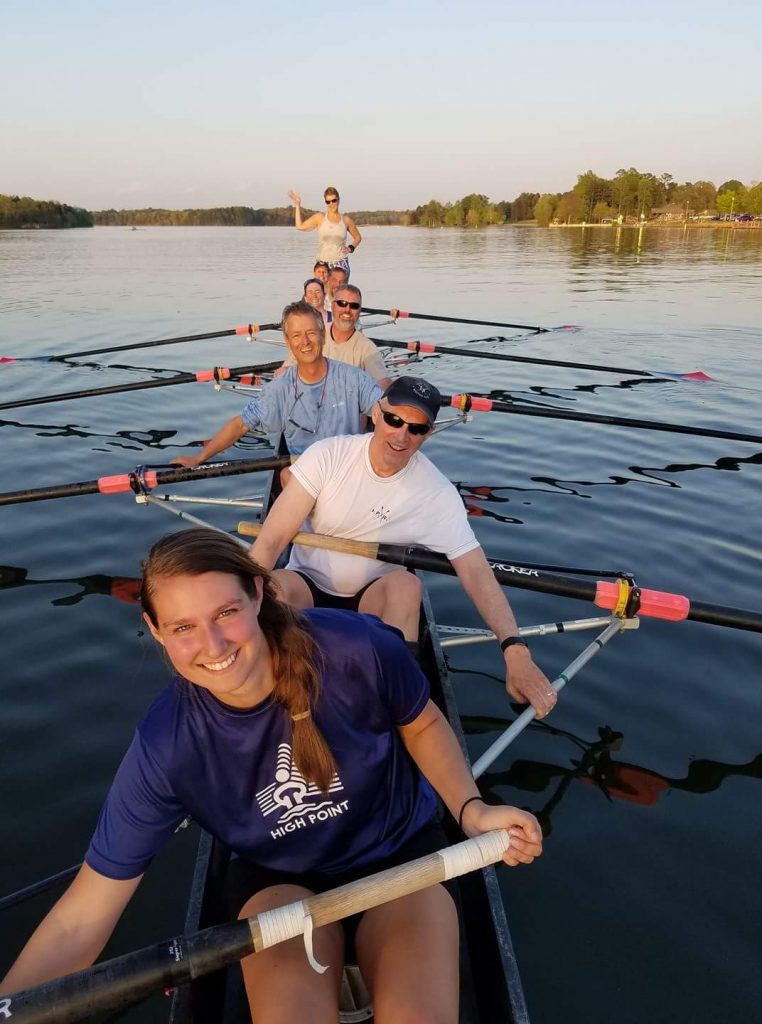 High Point, NC – High Point Rowing Club is excited to announce a new season of "Masters Rowing" for adults – Spring Session! Rowing will take place on Oak Hollow Lake. The purpose of Masters Rowing is to foster healthy living in a fun team environment for adults through the wonderful sport of rowing.
No prior rowing experience is necessary.
"Masters" is High Point Rowing Club's answer to the high interest in rowing among adults in the Triad and participants may join as individuals or groups through a corporation.
Rowing has taken off as the new spinning and we have established an enthusiastic group of adults wishing to try out this sport," says club organizer Gene Kininmonth. "Rowing, whether on the Concept2 rower or in the boat at Oak Hollow Lake, is non-impact making it significantly safer from injuries, which is especially appealing to adults."
The High Point Masters program is modeled on the highly successful adult program in Pittsburgh, which has hundreds of members and an incredible community feel to it. Our High Point rowing community is growing too!
Format: Participants with no prior experience will start with a learn-to-row format on rowing machines and then progress to the real thing in boats. As technique and stamina improve, a more competitive format will be adopted.
Competition: June 10 – the Virginia Boat Club Sprints Regatta in Richmond, VA.
Dates and Times: Participants may sign up for either weekday or weekend sessions, or both.
CURRENT SEASON:
Spring Session Rowing Dates and Times: Participants may sign up for either weekday or weekend sessions or Spring Unlimited. 
Indoor Rowing on Monday & Wednesday ($195): 6:15pm- 7:45pm starting April 24, ending June 14. Note this is in Jamestown.
Morning Rowing Spring on Tues & Thurs ($195): 8:45am – 10:15am. Starting April 25, ending June 15.
Evening Rowing Spring on Tues & Thurs ($195): 6pm – 7:30pm. Starting April 25 ending June 15.
Weekend Rowing ($195): Saturday 7:30am and Sunday 4pm – 5:30pm. Starts April 29 and ends June 18.
day ($195): 6:15pm – 7:45pm. Starting April
MASTERS UNLIMITED ($275): Row any and all the above sessions.
More Info: Call Gene at 257-9009 or email contact@highpointrowing.com
Note: Space for the Spring Session is limited so please make your reservation early to avoid disappointment. Your registration is not complete until payment is received.